360 Property Inspections, LLC offers multiple types of inspections for both home buyers and sellers during the home buying process:
General Property Inspection/Re-Inspection
Scheduling a general property inspection prior to purchasing your home will provide you with an unbias and detailed report of the property that you are purchasing.
Pre-Listing Inspection
Scheduling a pre-listing inspection prior to selling your home is a smart investment to make. The pre-listing inspection will allow you to identify the current condition of your home so you can either make the necessary repairs in advance or be prepared for the buyers request.
Builder's Warranty "11th Month" Inspections
New homes usually come with a one-year warranty from the builder. This crucial 11th-month inspection will help to ensure any covered defects in materials or workmanship are discovered before they become your financial responsibility.
Home Maintenance Inspection
Scheduling a home maintenance inspection is very intuitive for homeowners. Upon performing a home maintenance inspection we will provide you with a full assessment of your home's condition and areas that should be repaired to reduce the risk of potential repairs needed in the future.
What's Inspected?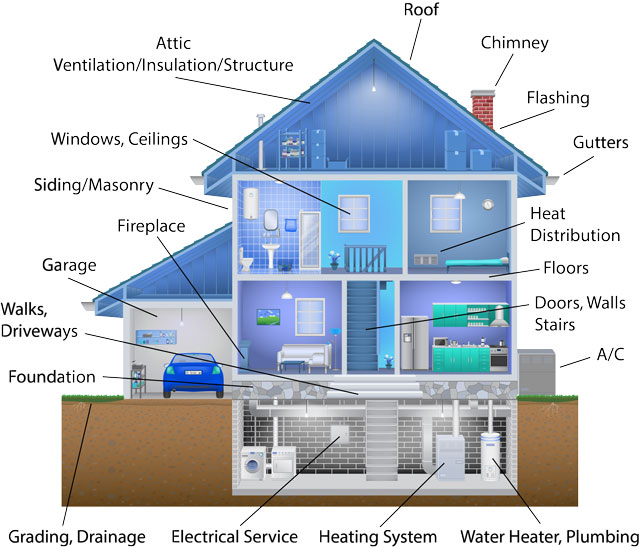 Roof, Vents, Flashing and Trim

Gutters and Downspouts

Skylight, Chimney, and other Roof Penetrations

Decks, Stoops, Porches, Walkways and Railings

Eves, Soffits, and Fascia

Grading and Drainage

Basement, Foundation, and Crawlspace

Water Penetration and Foundation Movement

Heating System

Cooling System

Main Water Shut-Off Valve

Interior Plumbing Fixtures and Faucets

Drainage Sump Pumps

Electrical Service Line and Meter Box

Maintenance Disconnect and Service Amperage

Electrical Panels, Breakers and Fuses

Grounding and Bonding

GFCI's

Fireplace Damper Door and Hearth

Insulation and Ventilation

Garage Doors, Safety Sensors and Openers